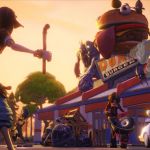 Fortnite Cheats and Cheat Codes, PlayStation 4
Download Fortnite Cheats and Cheat Codes, PlayStation 4 for FREE
Cheats and Tips for Fortnite
Fortnite Guides and Tips
Last Updated: Aug 3rd 2020 by Dennis
Fortnite is an online video game that is available in three different modes: Fortnite: Save the World, Fortnite Battle Royale, and Fortnite Creative. We have Fortnite Cheats and Tip for PS4 that will help you in whichever game mode you decide to play.
– Fortnite: Save the World
A cooperative shooter-survival game for up to four players to fight off zombie-like creatures and defend objects with fortifications they can build.
– Fortnite Battle Royale
A free-to-play battle royale game where up to 100 players fight to be the last person standing
– Fortnite Creative
You are given complete freedom to create worlds and battle arenas.
Fortnite Cheats for PS4
We have several helpful cheats you can use to get an advantage in the game. These include hidden lairs and how to get free V-Bucks to use in the shop.
Where to find Hidden Lairs
Our Hidden Lairs Guide will show you where to find the hidden superhero and villain lairs in Snobby Shores, Salty Springs, and Lonely Lodge.
How to get Free V-Bucks
You can get V-Bucks in Fortnite a number of ways. Our How To Get Free V-Bucks Guide will explain each of these ways.
Best Treasure Chest Locations
Treasure cheats in Fortnite contain the best weapons and items. Our
Best Treasure Chest Locations Guide will tell you the best places in the game to find them.
Fortnite PS4 Gameplay
Fortnite Tips for PS4
We also have a collection of Fortnite tips which you can use to gain an edge over your adversaries.
How to Craft Weapons
We have a How to Craft Weapons Guide which will show you how you can create brand new weapons by using the schematics and materials you obtain during gameplay.
How to Level Up Fast
In order to level up fast in Fortnite you will need XP. Our How to Level Up Fast Guide will give you plenty of tips on how to get XP quickly.
Strategy Tips
Take a look at our
Fortnite Stratey Tips page to find out about different tactics you can use in Fortnite to elimiate the competition.
Weapon Tips
The most important pieces of equipment in your inventory are your weapons. Our Weapon Tips page will turn you into a weapons expert.
How to be an Expert Builder
You will need to build a structure at some point in Fortnite regardless of what mode you are playing in. Out Building Tips page will give you advice on how to build the best structures in Fortnite.
Fortnite Guide
We have an comprehensive Fortnite Guide that covers all three game modes as well as the different areas within them. This includes how to evolve characters and daily quests.
Have a look at our Questions and Answers to get additional help in Fortnite for PS4. These include shield potions and gathering resources.
More Fortnite Cheats and Tips
We have 12 cheats and tips on PS4.If you have any cheats or tips for Fortnite please send them in here. We also have cheats for this game on : PC
You can also ask your question on our Fortnite Questions & Answers page.
All Cheats and Tips – Most Popular First
Hidden Lairs
The following videos show you where to find hidden superhero and villain lairs.
On the mountain north-east of Snobby Shores

Underneath a house in Salty Springs
Lonely Lodge
Inventory
You only have a limited inventory, you can only have five items with you and it is essential you find space for Meds. Usually, three weapons will do – Sniper rifle, assault rifle, shotgun/grenade launcher/RPG.
Dinosaur Easter Egg
The video below will show you where to find a giant dinosaur footprint along with movie making equipment on the map west of Greasy Grove.
As of May 2018 nobody knows what the connection is but dinosaur themed outfits have already been released (Rex and Tricera Ops skins), and their was the Dinosaur Banner Icon as the reward for the 99th tier in the Season 3 Battle Pass.

Resources
As soon as your boots have hit the ground you need to be quickly searching around to see if there are any weapons and ammo nearby. Make sure you also scavenge for resources by smashing anythng you can.
Reach the Ground Faster
If you change your body to a near-vertical position when you jump off the bus you will reach the ground faster. Don't worry about approaching too fast because eventually you will get low enough that your glider will be forced open and you will glide safely down.
Avoid the Enemy
Pick your fights carefully, the best strategy is to not engage the enemy. Remember at the end of the day the objective of the game is to survive, not to see how many people you can kill.
Look for Cover
If possible try to void running out in the open when you have to move from one location or building to the next. Always look to stay behind cover to avoid being spotted.
Blue Flare
Whenever you see a blue flare on the ground it is to indicate that a loot box will be dropped via air shortly. When this happens you need to plan around it so that you can claim the loot for yourself. There is also the option of using the loot box as bait to lure other players and then pick them off.
Treasure Chests
Make sure you always open treasure chests when you come across them as they have a higher loot drop ratio then the random items you will find scattered around the map.
New Area
Whenever you enter a new area you should first take the time to scope it out to make sure nobody else is near you before you start searching through loot crates and leaving yourself open to be easily picked off.
Medical Supplies
Bandages and first-aid Kits are essential and you should always try to carry a supply of these so you are prepared to survive encounters with other players.
Shield Potions
Drink the shield potions as soon as you get them so you are able to withstand attacks from sniper rifles and other weapons. There is no point putting the potions in your inventory for later as they take up a space in your inventory.
Fortnite Trophies
There are 46 trophies for Fortnite.
Click here to see them all.
Questions & Answers