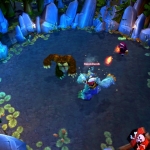 League of Legends Cheats and Cheat Codes, PC
Riot Points are important in League of Legends as they are the premium currency, largely relegated to being purchased with real money.
There are, however, a few ways to earn them for free:
At Level 3, you are given 400 Riot Points.
If you refer other players to League of Legends, you receive Riot Points as part of your milestone rewards.
Sometimes Riot Points are given out at particular holidays.
If you are happy to pay for your Riot Points, remember that the more you buy, the more economical the purchase is. So each Riot Point gets cheaper as you buy more in one go.
Riot Points are used to purchase certain exclusive items, such as skins for your champions. There is no performance boost here, so you don't need to worry about rich players owning the battlefield.
With that said, the best champions are more expensive in terms of Influence Points, and take a long time to unlock, but they are feasible to purchase using Riot Points instead.
Riot Points are also used to buy boosts, for XP and IP. These are a good idea if you want to reach Level 30 as quickly as possible with less effort than everyone else.
TIP: Try waiting for a sale, as many items that you would have to buy with Riot Points will have 50% off at this point.