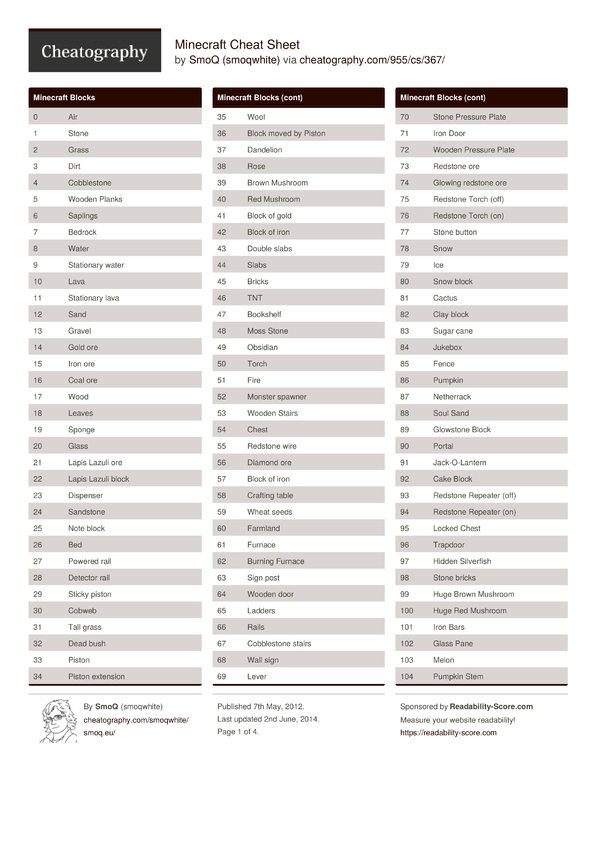 Minecraft Cheat Sheet
Download Minecraft Cheat Sheet for FREE
Minecraft Blocks
| | |
| --- | --- |
| | Air |
| 1 | Stone |
| 2 | Grass |
| 3 | Dirt |
| 4 | Cobble­stone |
| 5 | Wooden Planks |
| 6 | Saplings |
| 7 | Bedrock |
| 8 | Water |
| 9 | Stationary water |
| 10 | Lava |
| 11 | Stationary lava |
| 12 | Sand |
| 13 | Gravel |
| 14 | Gold ore |
| 15 | Iron ore |
| 16 | Coal ore |
| 17 | Wood |
| 18 | Leaves |
| 19 | Sponge |
| 20 | Glass |
| 21 | Lapis Lazuli ore |
| 22 | Lapis Lazuli block |
| 23 | Dispenser |
| 24 | Sandstone |
| 25 | Note block |
| 26 | Bed |
| 27 | Powered rail |
| 28 | Detector rail |
| 29 | Sticky piston |
| 30 | Cobweb |
| 31 | Tall grass |
| 32 | Dead bush |
| 33 | Piston |
| 34 | Piston extension |
| 35 | Wool |
| 36 | Block moved by Piston |
| 37 | Dandelion |
| 38 | Rose |
| 39 | Brown Mushroom |
| 40 | Red Mushroom |
| 41 | Block of gold |
| 42 | Block of iron |
| 43 | Double slabs |
| 44 | Slabs |
| 45 | Bricks |
| 46 | TNT |
| 47 | Bookshelf |
| 48 | Moss Stone |
| 49 | Obsidian |
| 50 | Torch |
| 51 | Fire |
| 52 | Monster spawner |
| 53 | Wooden Stairs |
| 54 | Chest |
| 55 | Redstone wire |
| 56 | Diamond ore |
| 57 | Block of iron |
| 58 | Crafting table |
| 59 | Wheat seeds |
| 60 | Farmland |
| 61 | Furnace |
| 62 | Burning Furnace |
| 63 | Sign post |
| 64 | Wooden door |
| 65 | Ladders |
| 66 | Rails |
| 67 | Cobble­stone stairs |
| 68 | Wall sign |
| 69 | Lever |
| 70 | Stone Pressure Plate |
| 71 | Iron Door |
| 72 | Wooden Pressure Plate |
| 73 | Redstone ore |
| 74 | Glowing redstone ore |
| 75 | Redstone Torch (off) |
| 76 | Redstone Torch (on) |
| 77 | Stone button |
| 78 | Snow |
| 79 | Ice |
| 80 | Snow block |
| 81 | Cactus |
| 82 | Clay block |
| 83 | Sugar cane |
| 84 | Jukebox |
| 85 | Fence |
| 86 | Pumpkin |
| 87 | Netherrack |
| 88 | Soul Sand |
| 89 | Glowstone Block |
| 90 | Portal |
| 91 | Jack-O­-La­ntern |
| 92 | Cake Block |
| 93 | Redstone Repeater (off) |
| 94 | Redstone Repeater (on) |
| 95 | Locked Chest |
| 96 | Trapdoor |
| 97 | Hidden Silverfish |
| 98 | Stone bricks |
| 99 | Huge Brown Mushroom |
| 100 | Huge Red Mushroom |
| 101 | Iron Bars |
| 102 | Glass Pane |
| 103 | Melon |
| 104 | Pumpkin Stem |
| 105 | Melon Stem |
| 106 | Vines |
| 107 | Fence gate |
| 108 | Brick Stairs |
| 109 | Stone Brick Stairs |
| 110 | Mycelium |
| 111 | Lily Pad |
| 112 | Nether Brick |
| 113 | Nether brick fence |
| 114 | Nether brick stairs |
| 115 | Nether Wart |
| 116 | Enchan­tment table |
| 117 | Brewing Stand |
| 118 | Cauldron |
| 119 | End Portal |
| 120 | End Portal Frame |
| 121 | End Stone |
| 122 | Dragon Egg |
| 123 | Redstone Lamp (off) |
| 124 | Redstone Lamp (on) |
| 125 | Wooden Double Slab |
| 126 | Wooden Slab |
Minecraft items
| | |
| --- | --- |
| 256 | Iron Shovel |
| 257 | Iron Pickaxe |
| 258 | Iron Axe |
| 259 | Flint and Steel |
| 260 | Red Apple |
| 261 | Bow |
| 262 | Arrow |
| 263 | Coal |
| 264 | Diamond |
| 265 | Iron Ingot |
| 266 | Gold Ingot |
| 267 | Iron Sword |
| 268 | Wooden Sword |
| 269 | Wooden Shovel |
| 270 | Wooden Pickaxe |
| 271 | Wooden Axe |
| 272 | Stone Sword |
| 273 | Stone Shovel |
| 274 | Stone Pickaxe |
| 275 | Stone Axe |
| 276 | Diamond Sword |
| 277 | Diamond Shovel |
| 278 | Diamond Pickaxe |
| 279 | Diamond Axe |
| 280 | Stick |
| 281 | Bowl |
| 282 | Mushroom Soup |
| 283 | Golden Sword |
| 284 | Golden Shovel |
| 285 | Golden Pickaxe |
| 286 | Golden Axe |
| 287 | String |
| 288 | Feather |
| 289 | Gunpowder |
| 290 | Wooden Hoe |
| 291 | Stone Hoe |
| 292 | Iron Hoe |
| 293 | Diamond Hoe |
| 294 | Gold Hoe |
| 295 | Seeds |
| 296 | Wheat |
| 297 | Bread |
| 298 | Leather Cap |
| 299 | Leather Tunic |
| 300 | Leather Pants |
| 301 | Leather Boots |
| 302 | Chain Helmet |
| 303 | Chain Chestplate |
| 304 | Chain Leggings |
| 305 | Chain Boots |
| 306 | Iron Helmet |
| 307 | Iron Chestplate |
| 308 | Iron Leggings |
| 309 | Iron Boots |
| 310 | Diamond Helmet |
| 311 | Diamond Chestplate |
| 312 | Diamond Leggings |
| 313 | Diamond Boots |
| 314 | Golden Helmet |
| 315 | Golden Chestplate |
| 316 | Golden Leggings |
| 317 | Golden Boots |
| 318 | Flint |
| 319 | Raw Porkchop |
| 320 | Cooked Porkchop |
| 321 | Painting |
| 322 | Goolden Apple |
| 323 | Sign |
| 324 | Wooden Door |
| 325 | Bucket |
| 326 | Water bucket |
| 327 | Lava bucket |
| 328 | Minecart |
| 329 | Saddle |
| 330 | Iron door |
| 331 | Redstone dust |
| 332 | Snowball |
| 333 | Boat |
| 334 | Leather |
| 335 | Milk |
| 336 | Clay brick |
| 337 | Clay |
| 338 | Sugar Cane |
| 339 | Paper |
| 340 | Book |
| 341 | Slimeball |
| 342 | Minecart with chest |
| 343 | Minecart with Furnace |
| 344 | Chicken Egg |
| 345 | Compass |
| 346 | Fishing rod |
| 347 | Clock |
| 348 | Glowstone dust |
| 349 | Raw fish |
| 350 | Cooked fish |
| 351 | Dye |
| 352 | Bone |
| 353 | Sugar |
| 354 | Cake |
| 355 | Bed |
| 356 | Redstone repeater |
| 357 | Cookie |
| 358 | Map |
| 359 | Shears |
| 360 | Melon Slice |
| 361 | Pumpkin seeds |
| 362 | Melon seeds |
| 363 | Raw Beef |
| 364 | Steak |
| 365 | Raw chicken |
| 366 | Cooked chicken |
| 367 | Rooten flesh |
| 368 | Ender pearl |
| 369 | Blaze rod |
| 370 | Ghast Tear |
| 371 | Gold Nugget |
| 372 | Nether Wart |
| 373 | Potions |
| 374 | Glass Bottle |
| 375 | Spider Eye |
| 376 | Fermented Spider Eye |
| 377 | Blaze Powder |
| 378 | Magma Cream |
| 379 | Brewing Stand |
| 380 | Cauldron |
| 381 | Eye of Ender |
| 382 | Glistering Melon |
| 383 | Spawn Egg |
| 384 | Bottle o' Enchanting |
| 385 | Fire Charge |
| 386 | Book and Quill |
| 387 | Written Book |
| 2256 | "­13" Disc |
| 2257 | "­Cat­" Disc |
| 2258 | "­Blo­ck" Disc |
| 2259 | "­Chi­rp" Disc |
| 2260 | "­Far­" Disc |
| 2261 | "­Mal­l" Disc |
| 2262 | "­Mel­loh­i" Disc |
| 2263 | "­Sta­l" Disc |
| 2264 | "­Str­ad" Disc |
| 2265 | "­War­d" Disc |
| 2266 | "­11" Disc |
Minecraft Logic Gates
Minecraft server commands
ban

Blacklists the name playername from the server so that they can no longer connect.

ban-ip

Blacklists an IP address so that all subsequent connec­tions from it are rejected.

banlist [ips]

Displays the banlist. To display banned IP addresses, use the command banlist ips

deop

Revokes a player's operator status.

gamemode

0/1

Changes the game mode for playername to Survival (0) mode, Creative (1) mode. Remember, this will only affect playername and no one else.

give

[amount] [damag­e-v­alue]

Spawns amount (defaults to 1) of the item defined by data-value with the specified damage value (defaults to 0) at playername 's location.

help

Shows a list of available server commands. Note: banlist, whitelist, toggle­dow­nfall, xp, tell, me, and kill commands are not listed.

kick

Forcibly discon­nects playername from the server.

list

Shows the names of all curren­tly­-co­nnected players (the same can be achieved when pressing tab)

op

Grants playername operator status on the server.

pardon

Removes playername from the blacklist, allowing them to connect again.

pardon-ip

Removes ip-address from the IP blacklist, allowing players from that IP address to connect to the server.

save-all

Forces the server to write all pending changes to the world to disk.

save-off

Disables the server writing to the world files. All changes will tempor­arily be queued.

save-on

Enables the server writing to the world files. This is the default behaviour.

say

Broadcasts message to all players on the server (in bright pink letters)

stop

Gracefully shuts down the server.

time

Set or increment (add to) the world time. number is an integer between 0 and 24000, inclusive, where 0 is dawn, 6000 midday, 12000 dusk and 18000 midnight.

toggle­dow­nfall

Toggles rain and snow.

tp

Teleports player playername to target­player 's location

Adds or removes playername from the whitelist.

whitelist

Displays all players in the whitelist.

whitelist

Enable­s/d­isables the server's use of a whitelist.

whitelist reload

Reloads the list of player­names in white-­lis­t.txt from disk.

Gives the specified user the given number of orbs. Maximum is 5000 per command.