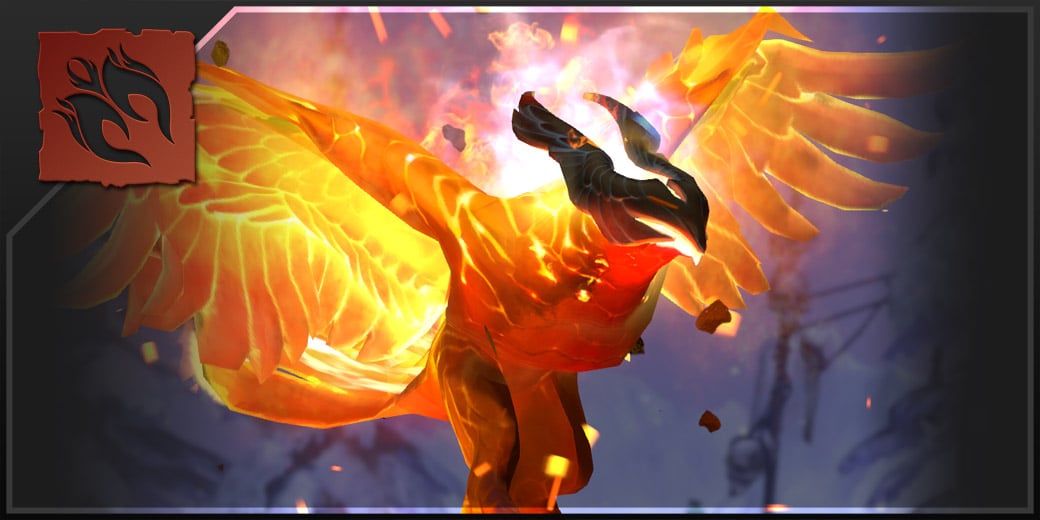 Phoenix Build Guide DOTA 2: Not Just KFC! (Updated With Aghanim's Scepter!)
Download Phoenix Build Guide DOTA 2: Not Just KFC! (Updated With Aghanim's Scepter!) for FREE


Not Just KFC! (Updated With Aghanim's Scepter!)
Shutters
September 24, 2014
In-game guide now available!
Hi guys! I recently made an in-game guide for those of you who don't want to keep alt tabbing to this page every so often. It's called Attack of the Murder Bird, and can be found here: http://steamcommunity.com/sharedfiles/filedetails/?id=247304598
Do subscribe if you liked it, and leave a comment if there's anything you wish to add. Ciao!
What's currently missing
Hey guys! So Phoenix came out in Dota 2 recently and this guide EXPLODED in the number of views. Thank you for all the kind words! I have compiled here a list of what's currently missing (I will work on these soon!)
– Pictures
– More hero Matchups
– Assorted Tips and Tricks (This chapter will be added to slowly as

Phoenix has an enormous skillcap depending on his items)
– Any other special section you guys would like me to explain. (Just leave me a comment and I'll get on to it ASAP)
Introduction
Who am I?
No one really. Just a guy with a lot of time spent in Dota 2 waiting for his beloved fiery chicken to be ported over. As of theWraith-Nightupdate, His texture work has begun, so i thought about writing my first ever guide in Dotafire! If there are any mistakes or corrections you wish to point out (I know how fanatical Phoenix fans can get) don't hesitate to leave a comment!
Apart from this being my first guide, Phoenix isn't actually in Dota 2 yet, so please forgive me for lacking important things such as pictures and icons
Edit – HE'S NOW IN DOTA 2. AND HIS MODEL IS BADASS. HURRAY!
Summary
Why Would I Want To Play Phoenix?
Why would I want to play Phoenix? Is that a question? Seriously?
Well then. Looks like I have some questions for YOU.
Do you like having immense amounts of firepower?
Do you like cheating death?
Do you like the idea of swooping around the battlefield, cackling and firing off nukes?
Do you like to live dangerously?
Do you like looking flashy and cool while playing Dota?
Does the thought of owning a high-powered laser excite you?
Do you hate Tanky McUnkillable heroes as much as I do?
If you answered yes to at least 3 of those questions, boy do I have a hero for you.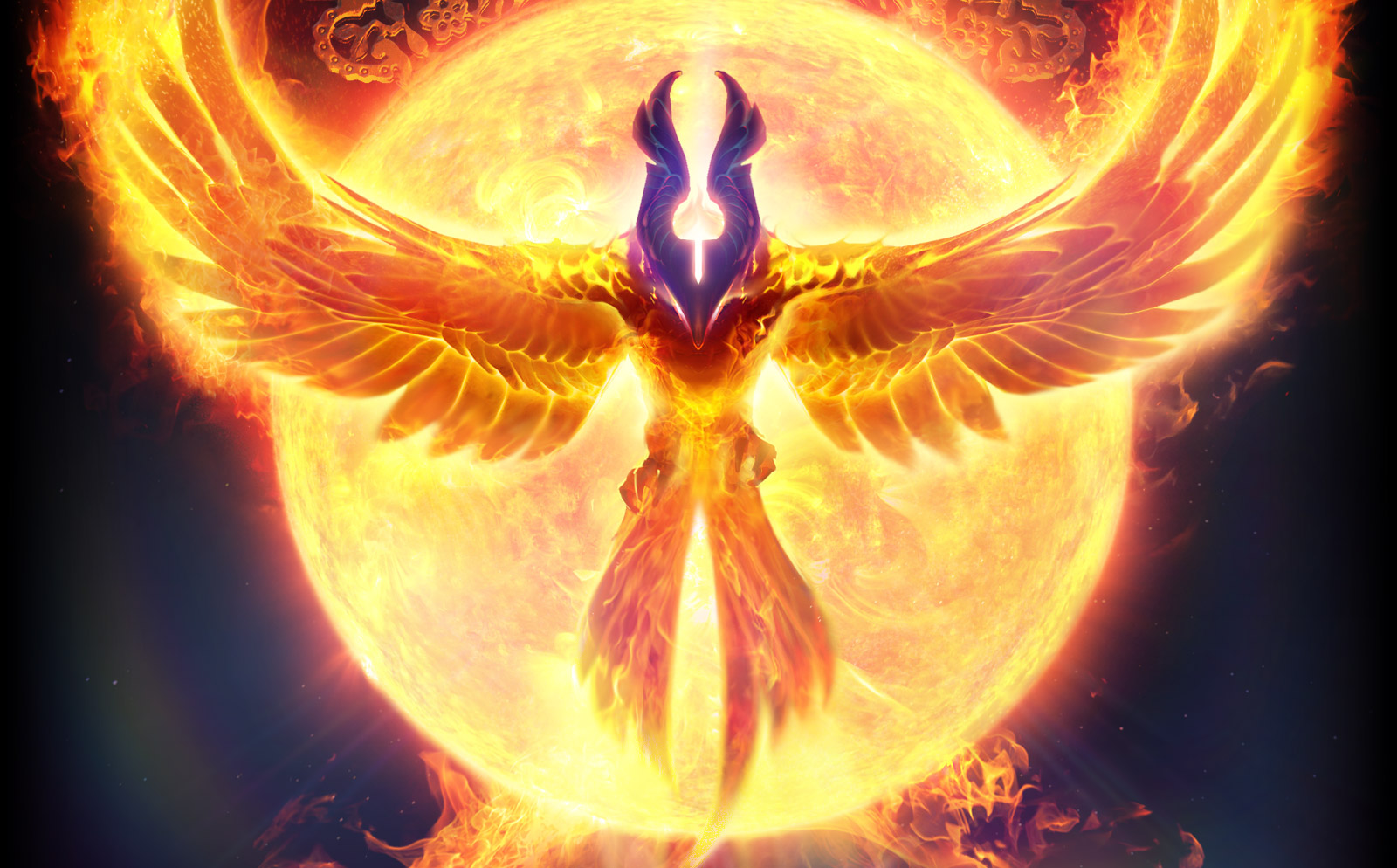 Equipped with searing hot damage in every spell, powerful zoning tools, a fantastic heal, a pure
damage and percentage based (and long ranged) laser of doom, and the most kickass mobility spell this side of fast food, Phoenix is considered to be a powerful support and potent nuker with a medium-high skillcap. His abilities enable him to pull off quite a few clutch plays, able to both save his allies from certain doom while melting faces with a high powered blast of his atomic breath.
When Should I Pick Phoenix?
Phoenix is a major bad *** and usually a very strong pick, but it's typically a bad idea to pick him first. He's got a number of counters and needs teammates that synergize with his unique daredevil playstyle.
When Do I Pick Phoenix?
You may pick

Phoenix if:
Your team is lacking in supports with damage
Your team has 1 or 2 major teamfight spells you can take advantage of (such as Ravage, Reverse Polarity, Poison Nova, etc
Your team lacks long-ranged spells
There are plenty of tanky heroes on the opposite team such as Centaur Warrunner , Wraith King, Dragon Knight, etc
The enemy team is lacking in silences
The enemy team is lacking in long ranged spells
Please do not pick

Phoenix if:
You're new to Dota (May I recommend Wraith King?)
Your team is lacking in stuns
Your team is lacking a carry (Hah! As if!)
Your ping is high ( Phoenix is a low-ping hero)
The enemy team has plenty of silences
The enemy team has Necrolyte (Your worst nightmare that isn't Silencer. Avoid at all costs!)
Skills
Ok guys, so I'm going to be assuming you're the dota 2 player who's never had the misfortune of being razed by Phoenix's incredibly potent abilities. Now lemme write them down for ya real quick.
-Phoenix swoops forward in an arc in the direction you target, before returning to his original position. The distance is a fixed 1,400 units, and any enemy he collides with on the way is slowed and dealt damage over time.
Important things to know!
– He can stop at any time during the dive, allowing Phoenix to make some sweet escapes as well as some daring dives and clutch plays (with the right items). If not stopped, he will return to his original position.
– You WILL stop if you are stunned while diving.
– Total travel time (time spent flying) is 2 seconds, but enemies burn for 4. They are also slowed by 25%.
– Mana cost is free! But he uses up 15% of his current hp to dive
– Did I mention he can totally use his spells mid-flight? That's kind of important, since it allows him to pull off top 10 plays. Diving into the midst of a teamfight and unloading his fire spirits is cool as hell.
– Not just spells. he can autoattack, AND use both single target and nontargeted items as well! Use this to your advantage and equip Phoenix with powerful item actives that can synergize with his Dive!
speaking of his Fire Spirits….
-Phoenix again uses up 20% of his current hp and turns it into 4 fire spirits that circle around him ready to raise the roof with fire. Once activated, Phoenix may then use this skill a second time to select 1 spirit to shoot at a targeted area. On impact, they explode and burn enemies in the area of effect. They also reduce the attack speed of any burning enemies!
Important things to know!
– The Spirits last for 16 seconds, while the burning duration on impact is 4 seconds long.
– Hitting someone with another spirit refreshes the burning duration
– The attack speed reduction is MASSIVE at -140 IAS at the maximum level (Greater than Untouchable!). This allows Phoenix to cripple autoattack reliant heroes with one blast. He may also use this early game to solo kill carries foolish enough to attack him head on.
– Combining this with Shiva's guard allows you to deal a whopping -180 attack speed in an AOE.
– When fully upgraded, each spirit blast deals 280 damage over 4 seconds. Nail an enemy thrice with great timing for an unfair 840 magic damage by level 7.
– Has a HUGE casting range of 1,200. Combine this with Icarus Dive's 1,400 range to attack someone from 2,600 units away. Great for nailing that last crucial hit!
– Spirits move at 900 speed towards the targeted area, so do adjust your aim accordingly!
Speaking of aiming, let's take a look at his most infamous skill, which requires precision and a lot of self control to not abuse.
– There's a reason this skill has been constantly hit withNOTHINGbut nerfs. Phoenix fires a 1,300 range laser beam from his mouth Godzilla-style and deals pure damage per second. The damage has a small base (that increases slightly as it levels up) as well as bonus damage based on a percentage of the enemy's MAXIMUM HP. Costs 6% of his current HP per second to fire!
Important things to know!
– The Sun Ray lasts for 6 seconds, so that's a whopping amount of HP you're trading off. Do exercise self control!
– The amount of damage it can deal to a single target is IMMENSE(270 + 36% of their maximum hp at the highest level)
– Phoenix may be turned left and right while firing his Sun Ray to catch any slippery devils attempting to flee
– Pressing Sun Ray's second ability while firing causes him to gain flying movement and pushes him forward at a fixed 250 movement speed. Use it to fly over cliffs when pinned down without Icarus Dive!
– Sun Ray HEALS allies when it strikes them (for half the damage it would deal!) giving Phoenix a heal that SCALES and has some awfully long range.
– Phoenix is free to cast his other spells as well as use any nontargeted items (Such as Shiva's or Mek) while firing Sun Ray
– Sun Ray is pure damage, so it is excellent at melting down tanky targets protected by pipes and armor. It is also amazing at healing up your OWN tanky-*** ally when a mek just won't cut it anymore.
– Remember to turn off the

Sun Ray when not hitting anything. You have to save on HP.
All that's left now is his ultimate.
-Phoenix turns into a magic immune, burning ball of badass that requires a set amount of enemy attacks to destroy. Any enemies within a large 1000 AOE take damage per second while the ball lives. Should they fail to kill Phoenix in 6 seconds, the supernova shatters, stunning all enemies within burning range and reviving Phoenix with full mana and HP.
Important things to know!
– This skill, when used right, allows you to cheat death. About to be get hit with

Assassinate? Supernova. Low HP and they're gonna tower dive you? Supernova. Extremely important teamfight going on and you need to be the biggest, juiciest distraction ever? Super-frigging-nova.
– Auras still work inside the Supernova, so if you have a

Shiva's Guard, you will still slow down their attack speed. If you have a radiance (God knows why you would), they'll get the radiance burn alongside the Supernova burn.
– Apart from the ulti, all your spell cooldowns will be refreshed upon resurrection. Use this to Icarus Dive away to safety (since any enemies nearby will be stunned upon resurrection)
– It's not damage that destroys the sun, it's the number of attacks. Do beware of heroes who can increase their attack speed such as

Ursa, Windrunner, and worst of all…

Troll Warlord.
– Upon entering Supernova mode, any Fire spirits you still have will explode in the area around your Supernova.
For super in-depth numbers and stuff, visit this page
Pros / Cons
Alright,You Convinced Me To Read Further. Now What?
Now dear hypothetical reader, we go through his Pros and Cons
Pros
+EXTREMELY Fun to play
+Highly effective until late game
+Numerous ways of dealing large amounts of damage
+A difficult support to squash (because of his multiple survival techniques)
+Can make excellent use of a variety of support items (the synergy between

Mekansmand ID for instance)
+Proficient at both ganking and counter ganking
+An effective range unmatched by any other support without a blink dagger
+Sun Ray is an amazing skill.
+When he snowballs, he snowballs hard.
+Great escape
+Powerful zoning tools
+A manly hero for manly men and women
Cons
-Hard to learn
-Mana problems (Like most STR hero casters)
-long cooldown on spells
-Very low base movement speed (285)
-****tacular Int and Agi gain
-0 base armor makes laning against ranged heroes a pain in the ***
-You use up HP like

Storm Spirituses up mana
-Easily taken out by highly mobile enemies such as

Weaverand

Storm Spirit
-Easily taken out in Supernova form by high attack speed heroes such as

Troll Warlordand

Ursa
-Needs a few more items than the average support to really shine
-Shut down completely by silences /

Black King Bar
-No stuns
Items
About to Leave the Fountain

These are pretty damn important being the babysitter. Ward the rune and the jungle!
If you're feeling cheeky, ward the enemy's mid lane so your mid always has high ground vision. You might want to skill Icarus Dive first though instead of Sun Ray if you're planning on doing this risky move.

When playing aggressive, these babies will ferry you the extra regen you so desperately need!
Always remember that Flying Courier's give flying vision. You may use them to deward the cliffs near the rune spots if you don't have any wards there!

You have 0 BASE ARMOR. This alleviates the problem somewhat!
It's also one of the components for Tranquil Boots which is core on Phoenix
You expend a lot of HP to use your powerful abilities. These are important!
When planning on trading hits with an enemy hero, activate Fire Spirits, use a Tango, and fire one spirit at the enemy hero and autoattack until it's time to throw another spirit. Very few offlaners will attempt to trade with that. If they attempt to run, don't forget to blow them a goodbye kiss with a Sun Ray
Early Game

Standard on just about everybody, the burst regen can save your life and give you the edge in a fight.
If you're doing your job right, you're being a huge pain in the *** and the enemy will begin to get frustrated. As they attempt to throw spells in your direction, remember to dodge (If you can. Phoenix is pretty slow) and soak up some sweet charges!

No other boots fit Phoenix so well. You lack in armor and movespeed, as well as desperately need HP regen. Get this and get it as fast as you can.
They're also extremely cheap to build, allowing Phoenix to finish his boots without needing much farm.

Not only does it give you HP regen, it gives your carry too!
Core

Gives you health regen, a burst heal, and armor. What's not to love?
Phoenix's Icarus Dive gives him a way to quickly approach an endangered ally and save him with a mek.

A little mana regen to solve your problems never hurt. Gives you some HP as well!
Phoenix is an aggressive hero, he should be involved in a lot of ganks. This is where an Urn of Shadows comes in very handy. Use it to heal up after a fight, or as a 150 damage nuke to an enemy when you need that extra tick!
Situational

A little bit of everything! Gives you some movespeed (you're pretty slow), health, and a larger manapool.
Activate during teamfights to give your allies that little boost of attack and movement speed.

Though the regen it gives is pretty insignificant, Force staff provides plenty of utility with its amazing active.
Combine Force Staff's push with Icarus Dive to quickly cover an enormous 2200 range

The 11 HP / sec regen is highly useful to you, but you really want this for its barrier.
Again, activate this in the middle of teamfights to protect your allies. Since you'll be forcing the enemy to drop their nukes and switch to autoattacking, this is the perfect time to bombard them with Fire Spirits!

The extra HP is nice, and the great increase to your manapool is even better, but you really want this for it's ridiculously long ranged (1,200 units) slow.

I almost put this in core. Grants you plenty of strength and an unreliable slow. Defensively, The 25% evasion makes for a very happy Phoenix.
It's active will disarm ranged opponents for 4 seconds, and melee opponents for 3. useful at any phase of the game, but ESPECIALLY if you're about to go Supernova.

Extremely expensive, but one of these gives you all the HP regen you will ever need to raze everything.
Please do not prioritize this item above the others. It provides no utility in any way.

Permanently solves any mana problems you might be having. The massive armor gain is beneficial too! But what you really want this for, is it's ridiculous -40 attack speed aura. Let's see them attempt to use autoattacks with this AND Fire Spirits on them!
Don't forget it's active! You may use Icarus Dive to hit everything and the kitchen sink with the freezing blast! Not only will you slow everyone down and lay a 200 damage nuke for practically free, you're in the perfect position to use your Fire Spirits, Sun Ray, and even Supernova to wreak some serious havoc.

Although it doesn't give you HP regen, it DOES provide you with a large amount of movement speed and is a cheap way to permanently solve all your mana problems.
The active can be used by Phoenix to dodge attacks or interrupt an enemy's channeling spell or item.

Though the bonuses it gives aren't very high, it gives a LOT of bonuses. Think about this like a Vladmir's Offering, except more useful for you because you make your Fire Spirits that much more painful. It also gives HP regen!
It's not just Fire Spirits. 3 out of 4 of Phoenix's spells are magic damage. An investment into one of these babies can make you deal a LOT of damage in a fight. If someone else is gonna get it though, don't stack two on one team.

Hey kids, who's an appealing, squishy target who can do massive damage if not quickly taken out? That's right. Phoenix.
If the enemy is dumb and continue to attack you despite the Blade Mail, wait till you're low HP and activate Supernova to buy your teammates a ****load of time.

Extremely situational, but two Supernovas and 4 each of your powerful spells in an extended teamfight will practically GUARANTEE you victory if you play it right.
A word of warning: it does very little to help you survive, costs a lot of mana, and is very difficult to utilize to its full potential. It does however, raise Phoenix's considerable skillcap and makes him a team fighter for the ages.
Although not as efficient, it can be used as a panic button should your Supernova still be on cooldown.

So guys, Blink Dagger no longer costs mana. That means that not only is it MUCH more useful for Phoenix, you now have a 2nd mobility option!
Use this to disjoint any deadly projectiles without wasting your Supernova! You may also use this to properly position yourself before a huge teamfight!
Dagon
Look, up in the sk-KABOOM.
Gee, I sure am glad Phoenix doesn't have any burst and relies on damage over-ZAP
Seriously though, for troll builds only

Is it a huge gamble? yes. but it works EXTREMELY well with heroes who've got long cooldowns on their normal skills like Undying.
Also works extremely well with certain spells. See http://imgur.com/a/amssO for more information (Thanks Reddit!)
It's biggest downside is that it doesn't upgrade your DPS in any way. Think carefully about what you can do with the Aghs if you want to buy one.
Early Game
Alright. So as stated many times before, Phoenix is a Support and a pretty damn powerful one at that. Start out with the items I've listed above and set out to ward the rune spot and the jungle. Don't forget, the name of the game is HP regeneration; you're going to be casting a lot of spells and will probably take some harass.
Note that we get

Icarus Dive at level 1 just in case something dreadful (Like running into 5 enemies)happens, we got a good escape up our sleeves.
Now, as a babysitter, your main priority is carry safety. This means buying Observer Wards to scout out the map, as well as using Sentry Wards to deny your opponents vision. The last thing you want is for your carry to not get farm this early in the game.
Now, as

Phoenix, you're not just a babysitter, you're a babysitter that kicks some serious ***. Reach level 4 as soon as possible by stacking and pulling creeps, double-pulling (if Radiant) or getting first blood. Once you hit level 4, it is time to raise hell. Use your level 2

Fire Spirits and level 1

Sun Ray to beat the ever loving **** out of the heroes in your lane. XP range was increased in 6.79, so you gotta force them back a LOOONNGG way. Your skills all have ginormous amounts of range, this shouldn't be too hard. just don't, you know, miss. the cooldown of all your skills are ridiculously long and thus not spammable. Careful aim and efficient use of your abilities is needed.
But what if I'm Not The Babysitter?
You're NOT the Babysitter? Who the hell replaced you?

Venomancer? No matter. Phoenix kicks some serious *** roaming between lanes. All you need is a good partner with a stun or a slow, and Phoenix's great damage and range will make those kills happen.
Since using

Icarus Dive to initiate leaves you vulnerable and unable to escape, ask your partner to initiate for you. Immediately use a

Tango (You'll be needing the regen) and

Sun Ray the **** out of your target (AVOID CREEPS). Activate

Sun Ray's subability that gives you flying movement, and summon your

Fire Spirits as well and blast your poor victim. Should you be fighting more than one target, focus your

Sun Ray on the more valuable enemy, but try to catch as many heroes as you can with your

Fire Spirits blasts (it's AOE isn't too bad). Should you find yourself on very low health (you probably will), use

Icarus Dive to escape any reaction TP's from your enemies. If however, they're getting away with super low hp and you're feeling ballsy, use Icarus Dive's full swing to nail that last Fire Spirit while returning to safety. It doesn't always work but when it does, it feels freaking AWESOME.
IMPORTANT:

Sun Ray ends upon a silence or a stun. it's range is long enough to sit outside the reach of most stuns and silences, but if you can have your mate bait them out for you, all the better.
Mid Game
It is at this phase of the game that you should be finishing up with upgrading your

Sun Ray to it's full potential. By now, you should also have your ultimate,

Supernova. What happens next you might ask? Well, now we fight some more.
Your goal remains the same: Get your carry fatter than theirs, and be the biggest annoying moving target you can be. At this phase of the game, the ultimates will start flying, and skirmishes will involve more and more heroes. Phoenix is almost always not in the peak of health throughout this phase, as he will be very active and also be a prime target for attack. Don't be scared: Phoenix is a manly hero for manly men (and women), and manly people do not fear death (just feeding). If dying involves rescuing your carry, or buying your team that precious few seconds to set up a counterattack (

Supernova is great at doing this), then it was worth it.
As much as possible, try to not go alone. Although self sufficient, he lacks stuns, and his usefulness in combat really shines through when he has a partner to complement his skills.
Special Section: How to Ulti in Teamfights Effectively
I see this all the damn time: "Stupid KFC ulti sucks makes you sitting duck not worth it + ****ty damage lol". Shut up, you're missing the point.
See

Supernova isn't supposed to be an OMGWTFBBQ ulti (although it can) that makes clutch plays and wins 3 v 1's. It is an enormous, glowing, juicy distraction with a huge AOE that makes it tough to ignore. It is to be used after Phoenix has exhausted all of his offensive combat options (or he's about to die) and all he has left is maybe an Icarus Dive and 200 mana for an ult.
Upon such a dire situation, a good

Supernova will be much more useful than simply standing around autoattacking and pitifully squawking in your terrible attempt to look threatening. Find a spot (use Icarus Dive if pressed for time) where your enemies won't instantly be able to attack your nova form (Such as high ground, or from behind them to sandwich them between you and your team, behind some trees where they can't see you, etc)and let 'er rip. It's a big gamble yes, but one that you should be willing to take when necessary. If they kill you, well, at least hope your teammates used that precious few seconds to escape or do something useful. If you resurrect, you have full health, full mana, refreshed cooldowns, AND you just applied a 1.5-2.5 second stun to everyone within burning range. NOW who's the sitting duck?
You may now use

Icarus Dive to escape, or take advantage of your full HP and mana to rally your team and crush whatever is left.
I've seen this argument crop up several times. Which should we max first?

Sun Ray or

Fire Spirits?
Mathematically speaking, it's far more efficient to level up

Fire Spirits first given that it's damage scales by flat numbers and will generally be far more effective early game due to it's ability to allow

Phoenix regular movement as well as giving him a long ranged projectile with a ton of damage and – attack speed. Which is excellent on forcing enemies out of a lane or defending yourself when jumped on by enemies who rely on autoattacks (such as

Slardar,

Lifestealer, or

Clinkz).
However, an early

Sun Ray provides an excellent heal as well as a much easier to aim attack and extraordinary amounts of AOE damage at the cost of mobility and quite a lot of HP. It's much more offensive in nature than

Fire Spirits, and should be considered if one has slow moving, chunky targets, an allied carry who actually knwos that

Sun Ray heals, and the player has difficulty aiming the spirits.
Beware though! The HP loss from

Sun Ray is pretty high early on. Only use it when it reaches level 3 or higher, and eat a

Tango first before using in lane. Until then, play passively.
And remember that

Phoenix is quite the vulnerable target when applying

Sun Ray. Try to bait out the enemy's spells first before attacking. For example,
DON'T
Sun Ray while stuns and silences are up
Sun Ray on a mobile target like Nightstalker where he can simply run towards you and beat your face in.
DO
Sun Ray disabled opponents for free damage
Sun Ray injured allies when enemies are not around
As always in Dota, adapt to the situation!
Late Game
From here on out, Phoenix fades into the background as BKB's are popped and carries grow in power. Your job hasn't changed in the slightest. be an annoying bird (slow down the enemy carry's attack speed with your

Fire Spirits!, cheat death, laser people you don't like, and combine your items and abilities to wreak as much havoc as you can! If you've done your job right, your carry should be fat as hell and ready for battle. If things went bad and you're behind, don't forget that there's always a next time.
Oh and remember: no matter how much HP that enemy carry is packing, if his BKB is down, a good

Sun Ray should cut him/her down to size.
Special Chapter: Machine Gun Combo
So despite talking about how

Icarus Dive is a ridiculously overpowered skill when combined with

Phoenix's other abilities and items, I still see 80% of players completely fail to use it at anything other than chickening out, which is really bad considering it's possibly one of the best combo making skills in the game. What am I talking about you ask? Well, let me introduce you to a commonly known (although often unused)

Phoenix combo I like to call The Machine Gun Combo.
We all know a

Morphling can shotgun a poor chap to death with an Etheral Blade and an adaptive strike, but

Phoenix can actually deal a similar combo- He can combine his skills in a teamfight to provide a DPS storm that tears away at multiple enemy's HP bars until thye're awfully wounded, or 6 feet under. It's brutal, effective, and scales VERY well with a few good items thrown into the mix. So without further ado, I give you the Machine Gun Combo Chapter! *Toot*
The Basic Combo
The Machine Gun Combo at its most basic form is really just activating

Fire Spirits, and then diving the enemy and pelting them with the spirits and

Supernova-ing in their faces. It's relatively cheap (only 300 mana!), brutally effective, and doesn't require any items!
Important things to remember!
…They can totally still kill your Supernova, so do bring backup to finish the job!
You might want to get another skill point in Icarus Dive at level 4 over Sun Ray since it scales VERY well from level 1 to 2 (10 damage per second to 30 holy ****!)
If your sun survives and you resurrect, don't forget your cooldowns have been refreshed! Chase them down again with Icarus Dive and Fire Spirits and use your Sun Ray to add even more DPS!
This is the Machine Gun Combo at it's simplest. It might get a bit harder from here so do remember to practice!
Some Sweet Augmentations

Icarus Dive allows you to use items freely while flying. This means that your basic combo could be improved with virtually any active item in the game, but i'm going to round up some of the best ones you can use to tear your enemies a brand new butt.

Veil of Discord
You add this to your combo after activating Fire Spirits and Icarus Dive, but BEFORE you touch them while diving and pelt them with spirits. This is to maximize the surprise factor, since enemies are likely to back off if they find their magic resistance being lowered early.
Easily one of the best items to upgrade the basic combo's DPS. It's cheap, easy to build, the AOE is huge as hell, and it lasts for so long you can resurrect and dive them again and the debuff will STILL be on them. Perfect.

Shiva's Guard
You add this to your combo after you activate Fire Spirits, but BEFORE you use Icarus Dive. This is so the AOE would have expanded to a decent size while you're diving and increases the odds of hitting multiple enemies.
Not only does it add an extra 200 magic damage to your combo, but it aids in your Supernova form by slowing their attack speed, as well as the Artic blast slow combining with the slow from Icarus Dive taking out quite a bit of movespeed. No running from the murder bird boys!

Scythe of Vyse
Very situational, but extremely useful if there's an enemy with an excellent way of catching a fast flying Phoenix like Tidehunter or Jakiro. Apply the hex right before you begin pelting them with spirits (around the same time as applying the Veil of Discord. Once you're in Supernova form, their AOE skills will be no help in taking you down.
Extremely expensive to build, and a Eul's Scepter can do the same job (although you won't be dealing damage to a tornado'd unit), so be sure to think hard about whether it's worth it.
Dagon Dagon
Applied to the highest HP enemy (or highest priority kill) right before Supernova.
Oh you. Really? Did you really have to buy this?
I'm just finding excuses to keep Dagon in this guide.

Blink Dagger
Can be used at any time during the combo (except for when in Nova form) for better positioning.
Can also be used to escape upon resurrection, or abort mission midway through a combo
Also just an all around godly item.

Radiance
Oh you sly cur. Yes this is actually the most passive way to upgrade the basic Combo's damage- just throw a Radiance on top of it. It gives a mighty fine 300 damage upgrade to Supernova's burn alone, and is excellent for chases after your resurrection.
The buildup is really, really bad, so only get this if you're extremely far ahead and/or feeling too lazy to add yet another active to your combo.

Refresher Orb
You activate the orb AFTER a successful Supernova, and then only after you've already spent the refreshed Icarus Dive and Fire Spirits the Supernova gave you. You'll also be full mana upon a successful resurrection, so you should always have enough to activate the orb.
The exact opposite mentality behind Radiance, buying this means you want a helluva LOT of buttons to press, and are quite ready to bet your life on a succesful Supernova twice.
DO NOT ATTEMPT ON BUYING THIS WITHOUT Shiva's Guard. Adding this makes your now-stupidly-long combo VERY mana intensive, and you'll need the int the Shiva's gives you to even attempt the orb.
The Fully Upgraded Machine Gun
Alright, so it's now late game and you've gotten around three items to augment your combo. What's it gonna look like? Here's an example I drew up from playing again with

Phoenix this morning. I had a

Veil of Discord,

Shiva's Guard, and a

Refresher Orb to top it off. Here is what it looked like, Step by step.
Step 1 – Activate

Fire Spirits and

Shiva's Guard
Step 2 – Begin Icarus Dive, making sure enemy heroes are within the path of the dive
Step 3 – Apply Veil of Discord before you make contact whilst flying
Step 4 – Rapidly unload 4 Fire Spirits, spread them out to catch as many enemies as you can
Step 5 – Cast

Supernova, rely on my allies to keep me alive.
Step 6 – I'm alive, Activate Fire Spirits.
Step 7 – Icarus Dive again
Step 8 – Pelt enemies with more spirits
Step 9 – Activate Refresher Orb
Step 10 – Go back to Step 1. They really should be dead by now though.
Bonus Step: If Orb is not needed, use

Sun Ray to pick off stragglers or lay down heavy damage to especially tanky or magic resistant enemies!
I hope this chapter has been useful for you (Although I really think this stuff should be obvious)!
Special Chapter: Mid Phoenix
This chapter is currently undergoing construction
Let's get this out of the way, I am one of the few

Phoenix players on earth who prefer to play him as a support rather than as a mid. Nevertheless, with his unparalleled range, attack speed slow,

Icarus Dive and amazing damage,

Phoenix can flat out destroy midlane if given even half a chance. However, his HP will always be constantly low from having to wage war against another mid hero (who are usually powerful, ranged nukers themselves), so extra caution and some special tactics will be needed.
In this special chapter, I will be once again displaying each of

Phoenix's skills, and showing how you can use them to win mid. I will assume you already know what each skill does, this is only some tips on how to utilize their effects to win mid.
General
Phoenix has a 500 range attack, ****ty base HP but with a high natural str gain, and is extremely slow moving.
Generally, these are qualities you do not want on a mid hero. he more than makes up for it however, with his outstanding abilities.
If you're fast with your mouse, you can snatch runes mid-flight with this spell. This allows you to fly to the rune from a pretty fair distance, grab it, and cruise back to your original spot all in 2 seconds. It's pretty hard to beat a good Phoenix to the rune. This is however, VERY difficult to do without practice. Remember that Phoenix flies in an arc, so try not to point the dive right on top of the rune spot. Adjust your aim so his flight path goes through it.
Remember that your abilities, autoattack, and items all work while flying, AND you can stop it mid-flight.
Forgetful mid enemies will put down stat items before drinking their bottle to maximize it's effects. You can swoop in from a pretty far distance and destroy them with autoattacks while returning back to your position quite safely. You can also do this to snipe the enemy's Flying Courier.
A smoke gank coming your way? Your escape route pinned off? No worries. Run down the river then Icarus Dive up the cliff when they enter the river to chase you. Easy escape.
At level 1, that's a -80 attack speed for 4 seconds if it lands. You should time your skill activation for when your enemy is about to go for a last hit. Smack them with a spirit and deny like a boss.
These spirits are pretty easy for the enemy midlaner to dodge. Sometimes leading your shots isn't enough, and this is where mind games come in handy. Whip them out and open fire on areas he would need to be in in order to last hit. if you DO hit him, he gets damaged, and you could probably deny him. If he doesn't get hit, he is still without a last hit since you made him waste time playing dodgeball.
Should you be able to perfectly chain these shots together (Fire, wait 3 seconds, fire again) you will be dealing colossal amounts of damage to the enemy midlaner. Use Fire Spirits' superior range and shove them out of the xp range!
These are great for cancelling bottle charges, salves, and clarities. If you see that the enemy is about to use a consumable, bombs away.
The spirits are much easier to hit the closer you are. Should your opponent be low on health, consider combining Icarus Dive with Fire Spirits to perform an aerial bombing combo and make him feel like London under WW2.
Won't be seeing too much use in the middle lane (it's risky as hell) but DOES have an enormous range, which can be used to nail the last few hits on a fleeing enemy.
Ahh Supernova. Once you have this baby, their tower is no longer a safe zone.
Although you may be tempted to give them both barrels (of flaming action), always reserve 200 mana for emergency ults. You never know when that Pudge will score a lucky hook.
Remember, unless they've got some major way to boost attack speed, if they're alone (and just ate a Fire Spirit), there is practically nothing they can do against your nova form. if you must dive them under their tower to shove them out of the lane or outright kill them, Supernova is there to cover your sorry, armor-less *** from death by tower poo-poo.
Supernova makes for an excellent panic button vs other mids. For example, a Storm Spirit on their side just hit 6. he zips up to you, and is about to perform his deadly combo. What do you do? Well. If you're confident you can survive the combo, wait for him to carry it out, then ult in his face. If you don't think you can, ult immediately and give him the finger.
Remember that being mid is not all about the midlane! You have every possible tool you need now to gank the sidelanes, make aggressive dives, and survive. Go forth and gank my dear fiery chickens! Create space, shut down carries, raze supports, melt faces, and most importantly, look awesome doing it!
Special Chapter: Offlane Phoenix
This chapter is currently undergoing construction
Author's note – I recently asked a friend for some extra input regarding offlane

Phoenix, and have added it to this chapter. He's also written everything in (in my opinion at least) rather crudish capslock humor, but who am I to jude what you guys might like to read? His section is right after mine.
Squishy, slow, no armor, and an escape with a ridiculously long cooldown. Why would anyone ever think of putting

Phoenix in the offlane?
Answer: his ridiculously long range on his spells. With the recent changes to the offlane, not only is it easier for

Phoenix to survive, he could actually thrive, getting oozles of experience and gold where most heroes would balk. Just remember to exercise great amounts of caution!
General
Remember that experience range is approximately the length of your Sun Ray. Stay in xp range as much as you can to get a level advantage.
DO NOT spam your spells. You need your HP in the offlane. Only cast when you think you can get away with it safely.
You get one shot at using this spell due to it's ridiculous 36 second cooldown. Unless you can earn yourself a double kill, use this spell defensively!
If you're feeling fast, you can actually use this to shop from the side shop while it's being blocked by enemies (make sure not to stop at the shop lest you get ganked). Usually you might want to do this when you need to buy a TP and you need it NOW.
Don't use it immediately when multiple enemies attack you. You want to use it to dodge certain death, such as a Disruptor using Glimpse and Kinetic Field to trap you. If possible, run to covered areas such as the side shop where you can use your Icarus Dive under the cover of fog of war.
Your biggest threats are heroes with stuns and silences that aren't ground targeted such as Magic Missile and Last Word.
At level 1, that's a -80 attack speed for 4 seconds if it lands. You should time your skill activation for when your enemy is about to go for a last hit. Smack them with a spirit and deny like a boss.
Abuse the fact that these babies have ridiculous range and fire them off into the pull camp during a pull. Those creeps, both lane and neutral, belong to YOU damnit!
Take advantage of the fact that most lane supports absolutely cannot afford to be hit by this spell. If you can nail a few of them, they'll need to pop their salves. Or better, go back to the fountain.
If you are in the radiant offlane, there should be a medium camp to your right which you can easily pull to your own lane creeps. Fire a Fire Spirit into it and they'll sure as hell come out angry and looking for something to punch. Lead them into your lane creeps. WARNING: This is easily challenged by the lane supports, but that's what the other 3 fire spirits are for!
Don't be afraid of using Fire Spirits to secure some last hits from a safe distance. You'll be needing that gold to be well prepared when your mid hopefully comes up there hungry for a kill.
As much as possible, you will not be using this.
Never fear another tower dive and their annoying tower poo-poo once this baby is online!
Although you may be tempted to give them both barrels (of flaming action), always reserve 200 mana for emergency ults. You never know when that Pudge will score a lucky hook.
Speaking of tower dives, this is the perfect tower diving deterrent for Phoenix. Should your enemies wish to dive you, quickly apply Fire Spirits on all of them and Supernova next to the tower. If they still are going for you, you're either vastly outnumbered, or they're really really brave. or stupid. Sometimes it's one or the other, or all damn three.
Captain Capslock Section
ALRIGHT LADIES SO THE AUTHOR THINKS PHOENIX IS GOOD IN THE OFFLANE? WRONG. HE ****ING OWNS THE OFFLANE, NAMELY BECAUSE

Fire Spirits LETS HIM MANFIGHT ANYONE LIKE A ******* BOSS. YOUR STARTING HP IS PRETTY ****, SO REMEMBER TO BUY SOME STR. YOU ALSO MURDER JUST ABOUT ANYONE BY THE TIME YOU HIT LEVEL 3, SO BE A MAN AND GET THAT FIRST BLOOD. JUST WHACK AWAY WITH LEVEL 2

Fire Spirits AND A LEVEL 1

Icarus Dive. WHY DENY THEM CREEPS WHEN YOU CAN DENY THEM THEIR LIVES? NOW HERE'S SOME TIPS THE AUTHOR PROLLY DIDN'T TELL YOU ABOUT
GENERAL
DON'T ***** OUT UNLESS ABSOLUTELY NECESSARY. YOU'VE GOT ONE OF THE LONGEST RANGED JUMPS IN THE GAME, USE IT LATER.
THEY'RE LIKELY GOING TO 2V1 OR EVEN 3V1 YOU BECAUSE YOU'RE THAT ******* HOT. FORTUNATELY IT MEANS THEY'LL LOSE OUT ON THE XP RACE AND STILL HAVE PITIFUL LEVEL 1 NUKES AND YOU'LL BE READY TO KILL. JUST DON'T DIE BEFORE THAT AND THIS LANE SHOULD BE EZ PZ FOR RTZ
REMEMBER YOU GOT 4 SPIRITS SO YOU CAN BOTH MANFIGHT THEIR SUPPORTS AND **** UP THEIR CARRY BIG TIME. ONCE THEY'RE BOTH LOW USE YOUR DIVE ON THEM BOTH FOR A SWEET *** DOUBLE KILL
DON'T GET Sun Ray AT LEVEL 4, THE AUTHOR IS ******ED. GET ANOTHER LEVEL IN Icarus Dive BECAUSE THAT **** SCALES IN DAMAGE BY LIKE, 3 TIMES HOLY BALLS. IT DOESN'T SCALE VERY WELL AFTERWARDS SO FEEL FREE TO PICK UP LASER AFTER YO SPIRITS ARE MAXED. REMEMBER TO USE IT TO CHASE FLEEING ENEMIES. IT JUST MIGHT DEAL ENOUGH DAMAGE TO SECURE THE KILL
SPEAKING OF THE DIVE, DON'T FORGET YOU CAN BOTH FIRE OFF 2 SPIRITS AND LIKE, 2 AUTOATTACKS WHILE FLYING. ESPECIALLY USEFUL FOR SNIPING COURIERS OR KILLING A ***** HIDING UNDER HIS TOWER.
WHOEVER SAID IT TAKES TWO TO TANGO IS A DIRTY LITTLE LIAR. IT TAKES A TREE DAMNIT. AND YOU BETTER EAT ONE BEFORE YOU THINK ABOUT HARASSING.
REMEMBER WHEN BUILDING THE MEK, Buckler FIRST *******IT YOU START WITH 0 ARMOR.
Radiant Offlane
LOOKS LIKE YOU GOT THE ***** OFFLANE BOY. THE RADIANT OFFLANE IS EZ MODE DUE TO THE ENEMY'S LACK OF A TRIPLE PULL, THEIR DOUBLE PULL EASILY CONTESTABLE, AND THE OFFLANER ABLE TO PULL AS WELL. ITS ALSO GOT THE MOST COMMON Pudge SPOT IN THE WHOLE WORLD, AS WELL AS THE MOST WORTHLESS TOWER LOCATION-WISE COZ THERE'S NO ROSH NEARBY AND ****, SO THEY WON'T BE AS MAD IF YOU **** UP AND IT DIES. YOU BETTER NOT LOSE THIS LANE.
WHEN LEECHING XP FROM A PULL, DON'T USE YOUR FIRE SPIRITS AND ATTEMPT TO STEAL LAST HITS UNLESS NECESSARY. THE ENEMY WILL KNOW YOU'RE THERE. GO FULL ON HYHY AND HIDE IN DEM TREES. CONTEST ONLY IF YOU HAVE BACKUP OR THAT SUPPORT'S HP IS SO LOW FLO RIDA'S GONNA SING ABOUT IT.
THE CLUMP OF TREES TO THE RIGHT OF THE SHOP IS THE PERFECT PLACE TO MAKE USE OF YOUR JUKING SKILLS. COMBINE THIS WITH YOUR FIRE SPIRITS FOR BASICALLY FREE HARASSMENT. IT ALSO PROVIDES TREES TO EAT BECAUSE OM NOM NOM. BE SURE TO HAVE THE AREA WARDED SO YOU DON'T ACCIDENTALLY RUN INTO A SUPPORT ON THE OTHER SIDE.
THEY COMIN TO GANK YOU NOW? AW HELL NO THEY MUST BE SCARED OF YOU. HEAD TO THE SHOP AND SWOOP OUT ACROSS THE LEDGE BACK TO YOUR SIDE. BONUS POINTS IF THEY FOLLOWED YOU INTO THE SHOP BUT THEN FIND OUT THEY CAN'T FLY. BIRDS RULE.
SOMETIMES, THEY'LL WANT YOU SO BAD THEY'LL TRY TO SMOKE UP AND GO THROUGH THE SECRET SHOP ROUTE TO SURROUND YOU. WELL GUESS WHAT? YOUR TOWER IS RIGHT NEXT TO A RIDGE. EZ'IEST ESCAPE ROUTE OF YOUR LIFE AND THEY'LL HAVE WASTED THEIRS EVEN TRYING TO TAKE YOURS.
REMEMBER TO FLY OVER IMPASSABLE TERRAIN LIKE THE RIVER LEDGES WHEN *****ING OUT. YOUR MOVEMENT SPEED IS ***, SO YOU GOTTA MAKE ICARUS DIVE COUNT FOR A LOT.
Dire Offlane
WELCOME TO THE REAL MAN'S OFFLANE SON. YOU BETTER NOT CRY WHILE THE **** GETS BEATEN OUT OF YOU. THE RADIANT HAVE TRIPLE PULLS, ITS HARDER FOR OFFLANERS TO ESCAPE THEIR JUNGLE WHEN CORNERED, AND THEIR MID HAS THE EZIEST TIME OF HIS LIFE WALKING DOWN JUST A LITTLE BIT TO KILL YOU. YOU ALSO HAVE THE MOST UNFORTUNATE CIRCUMSTANCE OF BEING FORCED TO EITHER FLY INTO THE RIVER WHEN ESCAPING, OR RIGHT INTO THE ANCIENT CAMP. ITS ALSO EASY AS HELL FOR THEM TO SMOKE UP AND GO THROUGH THE ANCIENT CAMPS TO GET BEHIND YOU. THE SIDESHOP EMPTIES OUT INTO LAND INSTEAD OF A RIDGE FOR YOU TO FLY OVER, AND LOSING THE TOWER HERE SUCKS BECAUSE IT'S SO DAMN CLOSE TO ROSHAN. INTERRUPTING PULLS HERE IS ALSO WAY HARDER SINCE THE FIRST PULL CAMP IS AWAY FROM THE CLIFF WHILE THE OTHER TWO CAMPS BLOCK YOUR ESCAPE ROUTE SINCE YOU DON'T WANT TO FLY INTO THE ANCIENT CAMP. GAME IS HARD.
YOU'VE GOT FEW ADVANTAGES, BUT THE FACT THAT YOU'RE A GIANT FLAMING BIRD MEANS YOU'VE STILL GO THIS. YOU SEE THAT BOTTOM RUNE? MOST OFFLANERS HAVE TO WALK TO THE EXIT RAMP JUST TO NAB IT. YOU DON'T. YOU CAN ******* FLY RIGHT TO IT, MAKING A DIVE TO THE RUNE BOTH A GREAT WAY TO ESCAPE AND ESTABLISH RUNE CONTROL. IT ALSO MAKES BUYING A Bottle FOR DIRE OFFLANE Phoenix AN OKAY IDEA. REGEN RUNES AND DD RUNES ARE GIFTS FROM ICEFROG.
THE PLACEMENT OF THE TREES MEANS TO GANK YOU A SUPPORT HAS TO GO ALL THE WAY UP TO THE RIVER RAMP OR ELSE FACE YOU IN FRONT LIKE A REAL MAN. A SMART RUNE WARD THAT EVERYONE AND THEIR MOTHER KNOWS WILL GIVE YOU PLENTY OF WARNING TIME TO RUN TO THE SHOP AND GTFO.
IF YOU'RE GONNA BE A MAN AND BLOCK THE PULL CAMPS WITH A WARD, THERE IS A SPOT THAT BLOCKS TWO CAMPS AT ONCE. GO FIND OUT WHERE IT IS. THE GOLD INVESTMENT IS EFFICIENT AS HELL AND ALLOWS YOU TO CONCENTRATE ON KICKING THEIR CARRY'S ***.
REMEMBER, WHEN IN A SUPER TIGHT SPOT WITH DEADLY DAMAGE OVER TIME AND THERE'S NO HOPE LEFT, THE ANCIENT CAMP IS NEARBY FOR YOU TO FLY INTO AND SUICIDE IN. THEY'RE A HELLUVA LOT STRONGER THAN NEUTRAL CREEPS SO ARE MORE LIKELY TO GET THE LAST HIT ON YOUR SORRY ***.
LASTLY, DON'T FORGET TO HAVE FUN. PHOENIX IS ******* FUN. SOME WOULD SAY HE'S SO FUN, HE'S CHEAP. THEY'RE ALL JUST JEALOUS A SQUISHY CASTER MAKES FOR SUCH A FAN-****ING-TASTIC OFFLANER.
Special Chapter: How to Counter Phoenix
This chapter is currently undergoing construction
Has an offlane

Phoenix been ruining your trilane? Has a mid Phoenix been making your middle lane hell? Did you just wish you could just make these dirty Phoenix pickers cry like little babies?
Well then you've come to the right place.
Recommended Counters

Silencer
This is just dirty. If there is anything phoenix can't take, it's being silenced.
Use Last Word on Phoenix right before he'll use Icarus Dive. He'll get silenced midflight, and will swoop right on back to your waiting arms.
Phoenix has ridiculously long cooldowns. Put that Curse of the Silent to great use in lane!
Phoenix has 0 armor. Your autoattacks (especially if you orb walk) will be highly effective against him in lane!

Skywrath Mage
What's better than a silence? A silence that amplifies your firepower
Harass him out of lane with your Arcane Bolt. EZ GAME.
Phoenix has very low movement speed. One good slow (Which you have) makes for a very easy Mystic Flare. Just be sure the Phoenix is silenced though!

The diet version of Necro


Necrophos is capable of massive amounts of regeneration, as well as rotting down his foes HP and smiting them as soon as they reach a certain amount. Though he doesn't have the range or CC to crush

Phoenix in lane, he is amazing at nullifying his presence, as well as obliterating him with

Reaper's Scythe.
Take an early point in Heartstopper Aura and watch Phoenix have to chug down regen like I chug down caffeine!
As long as you take special care to dodge Fire Spirits, the regen from your passive and nuke should allow you to stay in lane for as long as you want.
Remember to use Reaper's Scythe! Not only will you find many times to use this on Phoenix, but you'll force him to use Supernova extremely early in fights. Maybe too early.
Laning
I see this all the time. You got a perfectly good trilane vs one offlane

Phoenix. Should be easy right? Well, it should be. However instead I see

Phoenix destroying trilanes all by himself, which to be honest, is pretty cool, but shouldn't normally be happening once you get a few basics down.
How to deal with an offlane

Phoenix!
Don't be over aggressive. Guys I know it looks like an easy first blood, but that bastard's harder to kill than you might think. Unless you've got great burst, it's very likely he's going to be able to retreat to his tower, or even decide to manfight you and abuse his own spells.
When pulling, take extra care that you don't get bombarded with fire spirits. Call up your lanemates and push him out. Those are YOUR neutrals!
Make sure you don't use your valuable stun UNTIL you see him start up Icarus Dive. An interrupted dive makes for an easy kill on Phoenix. Jakiro and his Ice Path are particularly excellent at interrupting the dive.
A Medallion of Courage works wonders. Try to pick one up ASAP!
As soon as he hits level 6, make sure you don't fight him unless all 3 of you are close by to attack him when he uses Supernova. A level 1 nova is an easy kill!
Phoenix 's Friends and Allies

Phoenix is a particularly friendly character, with plenty of heroes he works well with. I'll be updating this list over time.

Crystal Maiden
Everyone's best friend, her Arcane Aura combined with your Tranquil Boots makes for a lot less trips back to the fountain
Her ultimate, Freezing Field, and your Supernova go hand in hand. bait out the enemy's stuns and activate both ultis for some MASSIVE amounts of hurt.

Tidehunter

Witch Doctor

Warlock
Phoenix has amazing AOE and single target damage. Warlock has a huge slow, his infamous ulti, a heal in Shadow Word, and he's got Fatal Bonds. You do the math here.
No really, the duo of Phoenix and Warlock in a teamfight is devastating. The worst part is, Phoenix does not even need to use his other spells. Just target the tankiest enemy with a Sun Ray, and if he's under Fatal Bonds, any allies he's attached to will suffer some serious hurt. Of course, you also have Fire Spirits if you want to make it faster…

Dazzle

Axe
The OTHER manly hero for manly men and women, Axe could really use the heal from your Sun Ray to keep him beefed up and ready for ***-kicking
In return for keeping him healed up, Axe's Berserk's Call will do a great job of keeping enemies from attacking your Supernova

Lifestealer
Icarus Dive is a great way to move around an infested Lifestealer, especially if the goal is to come out of the blue and kill someone.
Not only will his Open Wounds slow an enemy for a massive amount, you can lifesteal with your spells off of them! What's that the kids say nowadays? Easy Sun Ray easy life?

Shadow Shaman
One of the best roaming duo's you can ask for, his multitude of disables synergize well with a good Sun Ray and Fire Spirits
Ask your Shaman nicely to hex any enemies you don't like, such as Silencer or Necrolyte. Often, he will be glad to oblige.

Clockwerk
Not only is he a REALLY strong pick in just about any team, his Power Cogs are just perfect for nailing your spells.

Legion Commander
Legion Commander is equipped with an ability to increase the attack speed and HP regen of an ally. You don't care about auto attacks, but the HP regen sounds right up your ally!
Legion Commander cares about one thing and one thing only. Winning. Winning Duel's that is! use your Fire Spirits to slow the attack speed of her enemy duelist, and do apply Sun Ray liberally to make sure she always wins! You'll be thankful for it later when she begins oneshotting heroes from all that bonus damage!

Invoker
ok, this is technically cheating because this son of a ***** can do anything, but never underestimate the offensive power you two possess!

Faceless Void
You can no longer fly through Chronosphere, but you CAN Supernova in one just fine (just be sure you Nova up first), making Void still a powerful ally for our fiery bird.
A large disadvantage of Void is that, unless he gets a battlefury really early, he can't farm very fast. Phoenix can fix this. The gold source is called an "enemy hero", and they're oh so delicious.

Brewmaster
You won't see this combination very often (It makes for a very greedy lineup) , but their Anti-carry powers combined make for some potent teamfight!
Save your Fire Spirits! You need them to protect the Brewmaster's Primal Split Brewlings. After peppering the enemy with them and using Sun Ray on the tankiest threat, use your Supernova. The Brewlings have just about every skill it takes to stop an entire team from killing you. All that teamfight and not counting the other 3 heroes on your team!
Phoenix's Enemies and Chicken Eaters

Phoenix may be a friendly hero, but he is a powerful foe and is considered to be very dangerous to a good portion of Dota 2's large cast. Because of this, it is extremely likely that the enemy will counterpick him, with the ones listed below to be very likely to appear.

Silencer
Phoenix's Icarus Dive does not cost any mana, allowing him to use it to quickly dispel Curse of the Silent and Last Word though be warned, it DOES cost HP (which could potentially kill Phoenix since Last Word nukes enemies after they cast a spell.

Necrophos

Troll Warlord
A nasty, hateful hero who specializes in attack speed, he will hardly feel the attack speed slow effect of Fire Spirits and will brutally and quickly destroy your Supernova.
He is to be regarded as extremely dangerous to you, but he IS a squishy guy. Do not hesitate to beat him down if you get the chance.

Windranger
A versatile, slippery foe whose Powershot, Shackleshot, and Focus Fire will give you some terrible headaches, consider her a potentially dangerous target.
In the laning phase, she has NO answer to your Fire Spirits. Apply them liberally and with as much hatred as you can muster; shutting her down early will delay her Powershot and Shackleshot and save your allies a lot of grief.

Timbersaw
A powerful, tanky, and mobile offlaner, you will be encountering MANY of these in your support life adventures.
He will have difficulty pinning you down, but he doesn't want you, he wants your carry. Liberal use of Fire Spirits in the laning phase will make his life hell. You may also want to drop a Sun Ray on him should your allies lock him down.

Skywrath Mage
You generally hate silencers, but Skywrath Mage gets special mention for his wickedly strong magic damage that will instantly vaporize Phoenix.
His range matches yours, but he is far, far squishier. With a good ally, you can easily goosh him like a bug.

Sniper
His range, fast attack speed, and annoying ministuns will make Phoenix very unhappy.
He tends to build Shadow Blade, making him quite the slippery opponent.
Fortunately, Sniper hardly has any HP and is almost entirely reliant on autoattacks. Land a Fire Spirit on him, use Dust of Appearance, and squish his little dwarf body.

Clinkz
Fast attack speed, extremely slippery, very tough, and will often build an Orchid Malevolence. Consider him a Phoenix hunter and avoid at all costs.
An important thing to note is that he needs to find Phoenix alone in order to kill him. Bring a friend around and always carry Sentry Wards or a Gem of True Sight to avoid him. Don't forget, Fire Spirits' attack speed slow screws him over in a teamfight!
Doom Bringer Doom Bringer
Run.
RRUUUUUUNNNNNN.
Should Doom be down, empty your guns on that fat bastard.
Phoenix's Prey and Chicken Feed

Phoenix does an excellent job of countering certain heroes and making their life hell. Like most counterpicks however, he only has a certain period of time within the game to shut them down before they will eventually outgrow his ability to overpower them. This section is for showing who

Phoenix can bully, how he can bully them, and when he should back off a little.

Shadow Fiend (Mid-Lane battle)
Shadow Fiend is extremely reliant on collecting souls for Necromastery to gain damage. It is extremely important that you slow down his soul gain by taking advantage of his low HP and low base damage. Harass him with Fire Spirits constantly in the mid lane!
Once he gains Raze, he will be hitting a little harder and pose a bigger threat. Your next job is to continually push him out of the lane with Fire Spirits harass, and CONTROL THE RUNES. Your rune control outmatches even the great Queen of Pain. Starve him of resources!
Once he finishes his BKB, he becomes a much harder target. He will now be hitting hard, can easily crush you in a man fight, and has super golden mode at his beck and call. Force him to use his BKB in bad moments. If he wastes it, your team can easily take him down later.
Shadow Fiend needs to snowball badly to maintain control. Slow him down long enough early on, and your team will be rid of a powerful threat.

Centaur Warrunner (Side-lane battle)

Oscar. I mean uh, Huskar. (Side-lane battle. Unless mid Huskar)
Poor, poor Huskar. The bane of many spellcasters due to his ridiculous magic resistance and obnoxiously fast attack speed when he's close to dying, Fire Spirits' enormous attack speed slow and Sun Ray's pure damage counter him perfectly. To add to this, Icarus Dive gives you an easy escape when he jumps on you (Make sure to fly AFTER he lands on you.), and Supernova means that rarely can he rely on the afterburn of Burning Spear to bring you down.
Whenever he Lifebreaks an ally, he just made your job easier by shredding off his health! Apply Fire Spirits, then use your Sun Ray to kill him and keep your ally alive!
Once he builds BKB, he becomes a major threat. At this point, a Heaven's Halberd or a Shiva's Guard would be wonderful. Shiva's aura is not blocked by magic immunity, and becoming magic immune will NOT remove the disarm from HH should you disarm him before he activates bkb

Night stalker (Mid-lane battle)

Lard-*** (Mid-lane battle)
Don't get hooked.
Seriously, don't get hooked.
*******IT STOP GETTING HOOKED.
Oh look, you got hooked.

Spirit Breaker (side-lane battle)
Space cow is just full of fun isn't he? No. no he's not. He's an annoying mammal that ought to get roasted and turned into beef steak. He's tough, but he's melee, needs some farm, and relies on attack speed. you know what to do.
That Mask of Madness he's wearing will lead him to his doom. Make sure you aren't alone (he thrives in 1 v 1 bashups), and if you see him activate MoM, lay the smackdown upon him. That +100 atk speed is nothing to your -140, and the increased damage he takes means your spells are going to hurt. A lot.
If he manages to farm a BKB, life gets a bit hard. Once again, Shiva's Guard and Heaven's Halberd are recommended, while Eul's Scepter is great for wooshing him up in the air before his Charge of Darkness hits and flying away to safety.
A Ghost Scepter is also a fine choice against him. You can't punch a ghost! You can however, cast magic while being a ghost, and here is where the scepter on you and the MoM on him can give you a combat advantage.

Tiny (Side-lane, rarely mid-lane battle)
I really don't have to explain to you why you will love this matchup do I?
A cool trick to dodge an Avalanche when you two are facing each other is to Icarus Dive past him instead of diving away from him. Diving away from him will force Phoenix to turn and be chased by the avalanche, increasing the odds that the avalanche will catch and stun him. Diving past Tiny on the other hand, will be much faster, and you will often fly past Tiny before the stun effect begins. You may now spit Fire Spirits at him while zooming around, cast Supernova and taunt his poor attack speed, maybe attack his courier if it happens to be sitting behind him.
Do end the game fast. A 6 slotted Tiny is one of the scariest sights you will ever see. It wrecks buildings, wrecks people, and wrecks people's faces. Remember this when deciding on whether to push or just keep on farming for that Dagon you know you want.

Hot Mama (Sidelane battle)
Assorted Tips and Tricks
This chapter is currently under construction
Hi there! This chapter is for various itty bitty tips and tricks that are too small to have their own chapter. You may contribute by commenting on my guide!

Sun Ray affects everyone struck by the beam. Try o catch as many allies and enemies as possible! A (situational)

Blink Dagger could assist with this.

Veil of Discord can easily be built from the sidelanes. Get the

Null Talisman first as it's harder to obtain (since you need to wrestle the courier), and get the

Helm of Iron Will from the sideshop. If you manage to build one before the laning phase is over, apply liberally to enemy lane mates.
A Dagon is an extremely funny, (if extremely bad) item to get on

Phoenix. You may use one while flying via

Icarus Dive to nail some pretty sweet kills. Trust me, you'll want to try it out at least once.
Battling a

Rubick may be very tricky as your spells are so ridiculously good. Just be sure what he gets isn't

Icarus Dive, as Rubick can use his own powerful spells like

Telekinesis and

Fade Bolt mid flight. If you can, bait him into getting

Supernova as his lack of

Fire Spirits and

Shiva's Guard will mean he lacks self-protection against heroes who could simply beat his sun to death.
Many foolish

Huskars believe they are invincible to spells when at super low HP. This makes them dive a lot of casters like

Phoenix with glee and impunity. Most of the time, they'd be right too…. if

Sun Ray wasn't pure damage. Should he jump you,

Icarus Dive out of his immediate attack range and

Sun Ray his face off. He'll be very confused at how fast he melts.
Clockwork can be a very dangerous opponent, as his

Battery Assault can prevent you from flying away. This is where it's often advisable to build a

Force Staff to zip over his cogs and into safety. He will also be unable to kill your

Supernova alone, especially after his attack speed has been slowed to a crawl.
Remember to use

Icarus Dive to snatch objectives! Deny towers, steal aegis, deny aegis, steal runes, deny runes, Last hit enemy towers about to be denied, even deny doomed (literally and figuratively) teammates from a position of relative safety. It's hard as **** to do most of the time, but

Phoenix has a swell autoattack and CAN do it. You just need to practice.
Remember, unless an enemy is about to die, ALWAYS FIGHT FROM RANGE. Your range on your spells is ridiculous. Take advantage and fight from the sidelines.
A very dumb, very fun thing to do is combining

Shadow Amulet with your

Icarus Dive for some truly obnoxious mindgames. cast it on allies form far off, cast it on yourself mid flight, build a

Shadow Blade and a

Radiance because why the hell not?
Videos
Hi! Here I list a few videos showing off what Phoenix is capable of. I don't have any recording software (boohoo) so these won't be mine, but I make sure they're of A++ quality!
Remember that if you find a video (or make one. Good for you!) Please do send them to this guide!
1. http://www.youtube.com/watch?v=oATaNhWuGkk
You guys want to be looking at #3. Here, the Phoenix pulls off an amazing Aegis and Roshan steal using

Sun Ray and

Icarus Dive. I mention this several times in he guide. Remember that Phoenix has full capabilities in item and ability usage, as well as picking stuff up and attacking while in mid-flight!
Afterword
If you've gone this far, CONGRATULATIONS! You've read my first ever guide without suffering an aneurysm! Thank you so much for taking the time, and please do leave a comment of constructive criticism if you think I can improve!
Oh and don't forget to have fun. No matter how much the average

Phoenix player gets teased for feeding,
He is not just
Changelog
Nov 18 2013 – Created
Nov 19 2013 – Updated with Why Pick Phoenix and Phoenix's Allies chapters.
Jan 26 2014 – Updated with Phoenix's Enemies chapter.
Jan 28 2014 – Updated with Mid Phoenix build, added

Legion Commander to the list of friends.
Jan 31 2014 – Updated with

Refresher Orb, added

Invoker to the list of friends.
Feb 5 2014 – Added

Sniper to the list of enemies, removed

Tranquil Boots from the mid build (Jesus christ that was stupid), added

Shiva's Guard to and removed

Mekansm from core on the mid build, added Alternative, EFFECTIVE skill build.
Feb 15 2014 – Added

Faceless Void to friends, put out a Tips and Tricks chapter.
Feb 17 2014 – Added a video section!
Feb 24 2014 – Added an offlane

Phoenix section!
March 2 2014 – Added Dagon and

Blink Dagger to items!
March 12 2014 – Minor corrections made.
March 23 2014 – Added a tiny section on

Fire Spirits vs

Sun Ray
April 9 2014 – Added in-game guide!
April 16 2014 – Added

Brewmaster to the list of friends!
April 25 2014 – Added a section for Phoenix's Prey
June 15 2014 – Happy Father's day! Just cleaning up a few mistakes
July 15 2014 – Updated

Phoenix offlane section
August 9 2014 – Added a section for the Machine Gun Combo!
September 24 2014 – Added

Aghanim's Scepter to situational items